If you haven't heard, the color of the year is Pantone 16-1546 #FF6D61, also known as Living Coral. Yes, it is as exciting and colorful as it sounds! This energizing color is warm, peachy, and showcases the most perfect shades of orange and gold undertones. There are so many ways to incorporate Living Coral into your home!
Whether you choose to embrace the color on a large scale; such as using wallpaper or painting a room, or maybe you incorporate the colors subtly with decorative accents! No matter what you decide, adding a splash of Living Coral into your home will create a feeling of joy and energy, while leaving an everlasting impression on your guests.
We want to show you how you can embrace this bright and bold color in your home this year!

Paint/Wallpaper
Dare to be bold…this room is floor to ceiling, energizing color, 24/7! Seriously, could you imagine having this color in a room? Instant happiness! The best thing about paint is, you can always change it. Leave the entire spotlight on the perfectly painted walls by layering the room with subtle accents and accessories; because we all know the color itself is here to steal the show. Living coral would be great for an entryway, bathroom, or even a living room, but whatever room you choose, Living Coral will brighten up the space and create an everlasting, inviting feel in your home.
Living Coral Kitchen
If you are looking to create a lasting impression, look no further! This Living Coral inspired kitchen will leave your guests in awe. These modern, sleek cabinets offer just enough storage space. They are modern and colorful. Two things are better than one? In this case, yes! Gorgeous, detailed backsplash moves the eye throughout the kitchen space creating a nice balance all around and never a boring sight!



Art & Accessories
Maybe you're not quite ready to dive into the color of the year head first by changing an entire color of a room. Maybe you want to dip your toes into the trending color by adding a subtler touch. A piece of art can be eye catching and offer a focal point in a room. An abstract art piece may be fun to pull some of the colors from the art and place them into the space by using accessories such as picture frames, furniture accents, curtains, pillows, lamps, and smaller decorative items.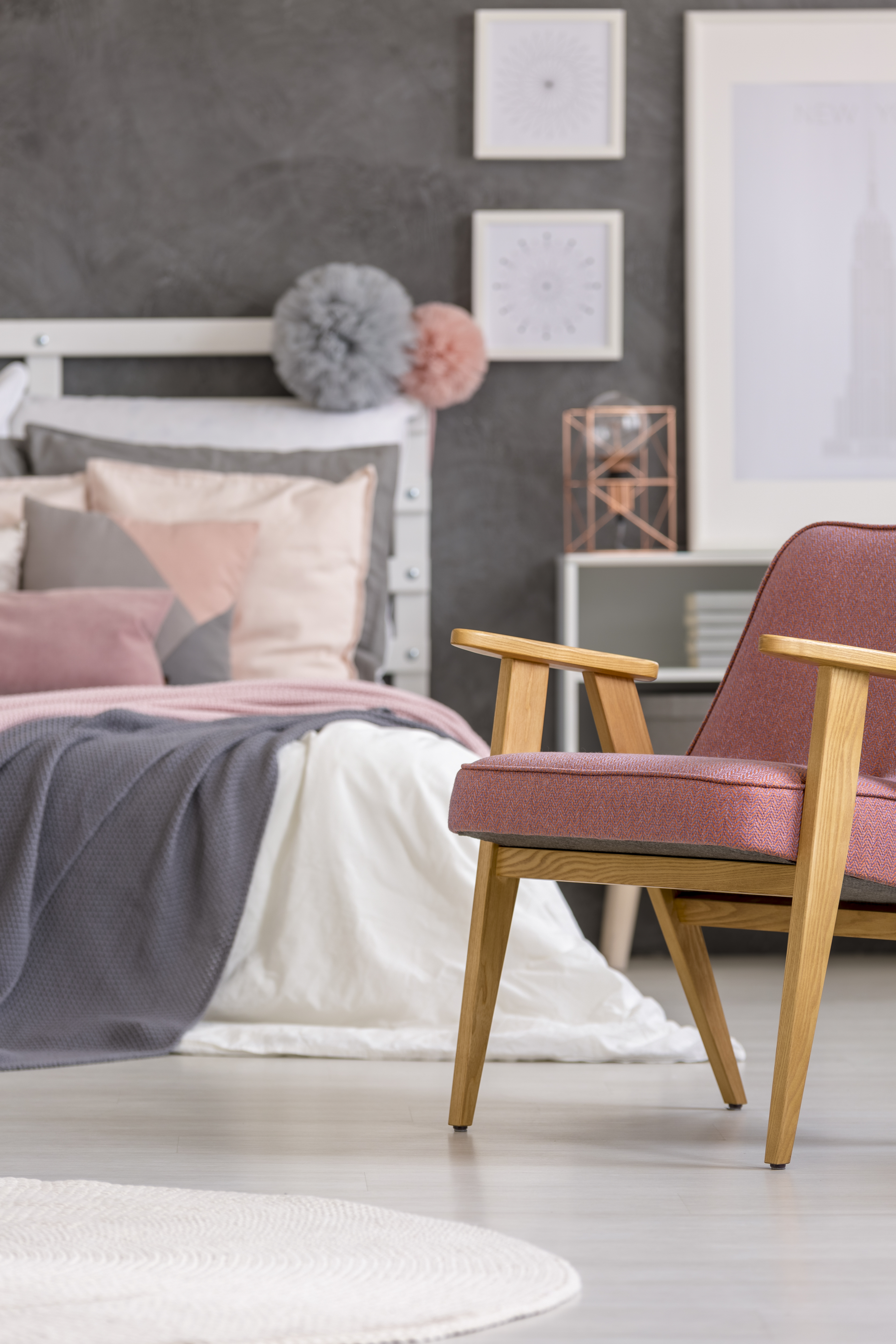 Accent Chair
Accent chairs have a role beyond function and are a great way to draw out colors, complement décor, and provide a focal point to a monotone space. An accent chair in Living Coral is dramatic, bold, and draws attention! To create visual balance, consider adding a pair of accent chairs into your living room.
Living Coral Bathroom
So fresh and so clean! A a pop of coral to your bathroom with a Living Coral vanity. Living Coral pairs well with blacks, whites, grays, and blues. Adding gold knobs or pulls to the bathroom vanity would accent Living Coral very well. That is the lovely thing about vanities, you can paint them and change the hardware for a simple, inexpensive transformation.
When considering if you want to add Living Coral into your home, think about the impact you are looking to make! If you want to add a big impact, consider changing up a paint color in a small room or entryway. Using coral accents in a neutral interior can make the same impact that a painted room can because it is so energizing. If you want to add it in small touches, consider an area rug that has a blend of corals with other bold hues or even pillows and throws.
Finally, it's just a color, don't be afraid to step outside of your comfort zone and try something new!